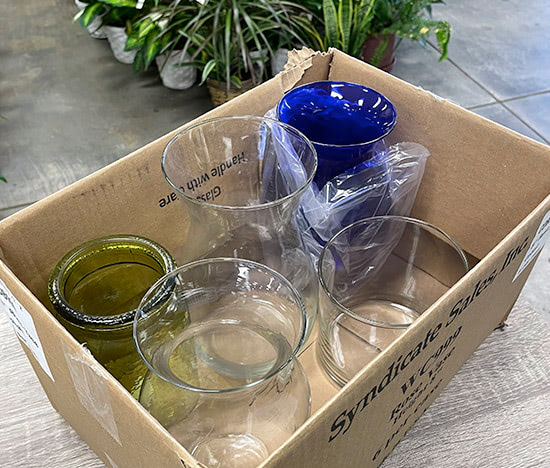 Casas Adobes Flower Shop has been providing Tucson, Oro Valley and its communities with beautiful fresh flowers for over 70 years. Since then, we have grown a great deal within our community and want to show our support to both the area and our environment. Our upcycle vase program does just that while welcoming you to join us in this initiative.
A big part of our work as florists is providing you with remarkable floral designs that fit perfectly within glass vases. With many wonderful returning customers, it's only natural that, over time, vases accumulate in your space. So, what can you do with your many glass vases?
"What Do I Do With All These vases?"
We invite you to bring your unwanted, clean flower vases back into the shop to be upcycled. Our team will inspect each vase and reuse them to create new bouquets for everyday deliveries, weddings, and other special events. While not all vases will be suitable for repurposing at Casas Adobes Flower Shop, we will be donating clean vases to Goodwill and sending damaged vases to appropriate recycling centers.
As our gift of gratitude, customers who bring in five or more floral vases will be given a complimentary wrapped bouquet of flowers! Caring for our environment and our community as a whole is something we care about deeply, and we hope you will join us in our journey to reduce, reuse, and recycle.